SEE YOURSELF IN THE SQUARE
Since its opening in 1929, Shaker Square has been a place to meet and share experiences,  together. There is always something happening in the Square inviting you to gather, engage,  and enjoy the spirit of community!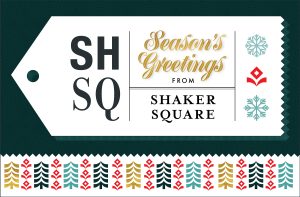 Join us in Shaker Square's public space to celebrate the holidays. Get a family photo with Santa, create fun crafts,  listen to live holiday music, and more!
Celebrate the spirit of the season with free and festive activities!
Say Cheese with Santa
Join us in Quad B (Next door to Breakfast Club) from 2 pm to 6 pm for a holly-jolly photo session with Santa! All participating families will receive a link to download their edited snapshots.
Gingerbread Galore
Head over to Quad B (Next to Captain Tony's) for some sweet fun. We're hosting a gingerbread man decorating party!
Fireside Festivities and Melodies by Brent Kirby
Captain Tony's patio space will be lit with an outdoor fire and live holiday tunes by Brent Kirby. Grab a seat, stay warm, and let the festive vibes sink in.
Horse-Drawn Wonderland Wagon Rides
Take a magical ride around Shaker Square on a horse-drawn wonderland wagon ride!
RTA Holley Trolley Extravaganza
All aboard the RTA Holiday Trolley! This trolley is bringing the holiday spirit with tours, a festive elf, music, and giveaways.
Merchant Magic!
Our Shaker Square tenants are spreading the joy too:
Cleveland City Dance: Open house with studio tours, coloring and complimentary lessons.

2-3pm: Nutcracker Mice Choreography (geared for ages 3-6)
3-4pm: Hough Gingerbread Choreography (geared for ages 7-11)
4-5pm: Waltz of the Flowers Choreography (geared for ages 12+)

Goldenrod Montessori: Open house with family activities (surprises await, so stay tuned!)
Cleveland Public Library will be set up at Goldenrod Montessori from 2-6pm with Cleveland READS book giveaways and more.
Psychopomp Coffee: Enjoy a cozy cup of coffee and hot chocolate as you wander throughout the event.
Shaker Square Market will be on East and West Bound Shaker Blvd. You will find farms and food producers with fresh produce, meats, dairy, baked goods, and more from 8-12 every Saturday.
Learn More